Cozy Dining
Discover the stunning collection of table accessories from Bekking & Blitz! Whether you're conjuring up an elaborate three-course meal on the table every day or preparing a simple meal occasionally, our table accessories turn every meal into a festive occasion. With our napkins, coasters, trays, placemats, and candle holders, you can give your dining table a fun and cozy look, regardless of the occasion - be it an informal meal or an elaborate dinner.
Our napkins add a touch of elegance to every table setting, while our coasters protect your tabletop with style. Serve drinks and snacks with a touch of class on our lovely trays and create a welcoming atmosphere with our placemats. For a cozy ambiance, you can use our candle holders, adding atmospheric lighting to your table setting.
With Bekking & Blitz, you can turn every dining moment into a special experience. Whether it's a relaxed lunch, a cozy dinner, or a festive feast, our table accessories add a touch of magic to every moment. Discover our extensive selection now and transform your table into a place where memories are made.
Bekking & Blitz - for dining with style, coziness, and class.

---
Cozy Dining & CSR (Corporate Social Responsibility)
CSR stands for Corporate Social Responsibility, and this is extremely important for us as a company! At Bekking & Blitz, we pay significant attention to this aspect. That's why we produce our products, including our tableware, with CSR in mind. We are a partner of CSR Netherlands because it's not just about profits, but also about the impact of our business activities on people within and outside the company. The tableware and the 'Cozy Dining' (Dining) assortment from Bekking & Blitz are produced in a sustainable and environmentally friendly manner because that's what we stand for as a company! When you purchase the 'Tafelen' assortment from Bekking & Blitz, you are making a circular choice and considering the world around you. This is something we all find crucial!
Ordering Tableware
Whether it's a cozy dinner evening, a quick lunch, or a cup of milk at breakfast, the 'Cozy Dining' assortment from Bekking & Blitz suits every occasion! Not only is it highly functional, but it also adds a delightful touch to your table setting. Who wouldn't feel delighted by beautiful tableware?! Ordering 'Tafelen' products from Bekking & Blitz is easy through our website. If you place an order on a weekday before 2:00 PM on our website, it will be shipped the same day. This means you can quickly and effortlessly have the tableware at your doorstep, ready to be used to adorn your table. Take a look at our website for a wide variety of exciting items for your table, including napkins, candle holders, coasters, placemats, and trays. Ordering from Bekking & Blitz is not only economical and fast but also incredibly convenient!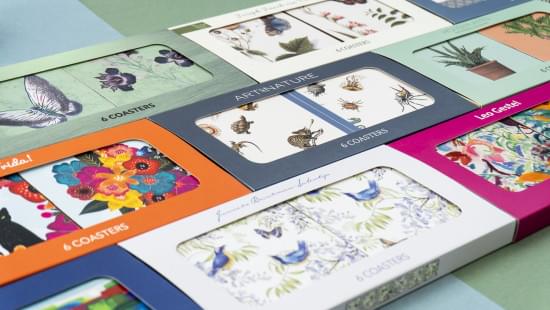 Unique Items for Your Table
Weekdays ordered before 2 pm, shipped the same day.