Coasters
Nothing is more frustrating than those unsightly rings left by damp glasses on your beautiful wooden table. But fortunately, we have the perfect solution: exquisite art-printed coasters from Bekking & Blitz! These coasters not only protect your table and other furniture from stains and moisture, but they also add a touch of artistic flair to your interior. And did you know that our coasters are not just suitable for glasses and mugs, but also spacious enough for an elegant teapot or a tasteful wine bottle? The artworks we print on our coasters range from timeless masterpieces to contemporary creations. This means you're not only adding protection to your furniture but also infusing a touch of cultural refinement into your daily life. Our coasters are crafted from high-quality materials that ensure durability and quality, allowing you to enjoy them for years to come.
---
Art on Your Table with Stylish Coasters
Table coasters come in all sorts of variations, but Bekking & Blitz's coasters elevate table decor to a higher level. Packaged in sets of six, they shine with six different artistic designs. With a matte laminated top and vibrant full-color prints, these coasters are not only visually appealing but also functional. Thanks to the non-slip cork bottom, they stay in place, even when you place a glass on them. Practicality and beauty go hand in hand with our coasters, which also make a stylish addition to your interior. Bekking & Blitz offers a choice of no less than 21 different coaster sets, each with an artistic character. Whether you're fond of the floral splendor by Roman Reisinger and Ton Schulten, the colorful art of Frida and Janneke Brinkman, or the natural beauty of Elwin van der Kolk's art for Vogelbescherming Nederland, we have it in our assortment. And this is just a glimpse of our extensive range!
Ordering Coasters
Have you found the coasters that match your style and interior? Ordering is quick, easy, and affordable at Bekking & Blitz! Select your preferred coasters and place the order. If you place your order on a weekday before 2:00 pm, the coasters will be shipped the same day! This means you'll have the coasters at your doorstep extra fast. If you order on our website for more than €30, no shipping costs will be charged. We've made ordering easy, so all you have to do is choose what you like.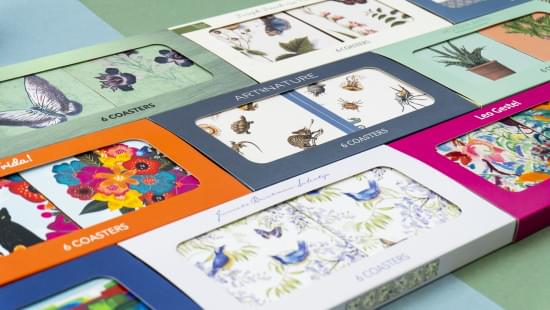 Art on the Table
Designed in Our Own Studio
Wide Assortment