Notebooks
A notebook is an essential item for anyone who writes a lot. Whether it's jotting down notes during a phone call, making to-do lists, or writing down your musings that you don't want to forget, a notebook comes in handy. At Bekking & Blitz, you'll find unique notepads featuring illustrations and artworks from both unknown and renowned artists, such as Piet Mondrian, Johannes Vermeer, or Vincent van Gogh. This adds a touch of fun to your writing. Whether you're looking for a luxurious A5 or A6-sized notebook, one with lines, blank pages, or a combination of both, it doesn't matter – you'll find it all in our assortment. Discover the beautiful designs and order your favorite one online today.
For those who enjoy writing in a fine-looking notebook, be sure to check out the wide-ranged variety in our web shop.
---
A luxury notebook with convenient features
You can store notes, stories, quick memos, or sketches in our luxury notebooks. Not only are the notebooks a work of art to behold, they are also grand in their practical features. You can choose from notebooks with light writing lines, blank pages, or a combination of both. This way, you can mindmap and take structured notes simultaneously. At the back, you'll find a handy storage pocket for loose notes or business cards. A luxury notebook with a hardcover provides sturdiness. However, you can also opt for an elegant fabric cover or a flexible soft cover. All our notebooks are of the highest quality. High-grade thick paper ensures that you can jot down everything easily without the ink bleeding through.
Hardcover or softcover
At Bekking & Blitz, we offer both notebooks with hardcovers and softcovers. A hardcover provides more stability and protects your notes from external influences, ensuring your notebook lasts longer. A softcover, on the other hand, imparts an elegant appearance. Whichever cover you choose, our notebooks are available in the most beautiful prints, inspired by famous and lesser-known artworks.
Buying a notebook in A5 or A6
Buying unique notebooks with beautiful prints is done at Bekking & Blitz. For instance, consider a small A5-sized notebook to take with you everywhere, allowing you to jot down your thoughts and ideas on the go. Apart from the popular A5 notebook, you can also opt for an A6 size. Purchasing and ordering a notebook is very easy with us. If you order your notebook on a weekday before 2:00 PM, it will be shipped the same day. Bring art into your home with a Bekking & Blitz notebook.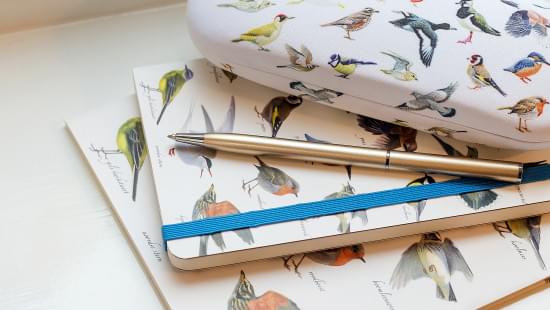 Ordered before 2:00 PM, shipped the same day.
Pay with iDeal, Mr. Cash, or credit card.
Environmentally friendly products.