Noteblocks
Capture a quick scribble, compile a shopping list, or jot down a few notes – with a note block or notepad from Bekking & Blitz, even the simplest message looks cheerful. Choose from our diverse range of note blocks adorned with exceptional illustrations and drawings. Whether you're leaving a lengthy note or a short memo, these note blocks with unique prints, featuring flowers, animals, or even the Milkmaid in the background, make it a delight to leave a message.
---
A note block with a unique artwork
With a note block from Bekking & Blitz, you bring a piece of art into your home. From a painting by Johannes Vermeer to an artwork from the Rijksmuseum collection, or a burst of flowers or illustrations by Dick Bruna. We offer you a wide range of different types of prints on our note blocks. The illustrations and artworks on a note block are created by both well-known and lesser-known artists. All artworks are designed with an eye for detail. Our collections can also be found in renowned museums. A note block from Bekking & Blitz is the perfect keepsake from a pleasant outing or your favorite painting. Great for yourself and as a gift for someone else.
Ordering a memo block
The paper of all our note blocks is of high quality and feels sturdy. A pen doesn't easily bleed through. This means you can use the pages on both sides. Would you like such a beautiful note block too? You can easily order our memo blocks online. If you order on weekdays before 2:00 PM, your note block will be shipped the same day. If you've received the note block but don't like the image or illustration, you can return the order for free within 14 days. Ordering a memo block has never been so simple. Write your scribbles, memos, or other messages on a beautifully artistic note block.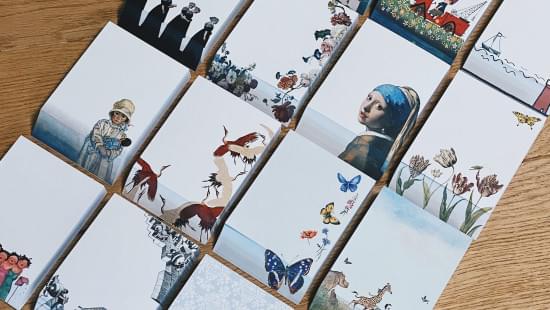 Ordered before 14:00, shipped the same day
Pay with iDeal, Mr Cash or credit card
World wide shipping
Environmentally friendly products